Saperavi
"Saperavi". This teinturier-type grape variety native to Georgia, where it is used to make many of the region's distinctive wines. (Georgian: საფერავი; literally "paint, dye" - due to its intensive dark-red colour). The Saperavi grape originated in the Kakheti region of Eastern Georgia and now is spread throughout its entire territory. A historic wine in Georgia, it can be considered the forerunner of the world's great red wines.The average harvest per hectare is 7-8 tons. The weight of a bunch is 140–145 gr. on average. Sugar content of the ripe grape reaches 260 gr/dm3, with the acidity of 7,5–8,5 gr/dm3. The bunch weighs 140-145 gr. on average. It is characterized by fall of flowers. It is not sensitive to fungus diseases.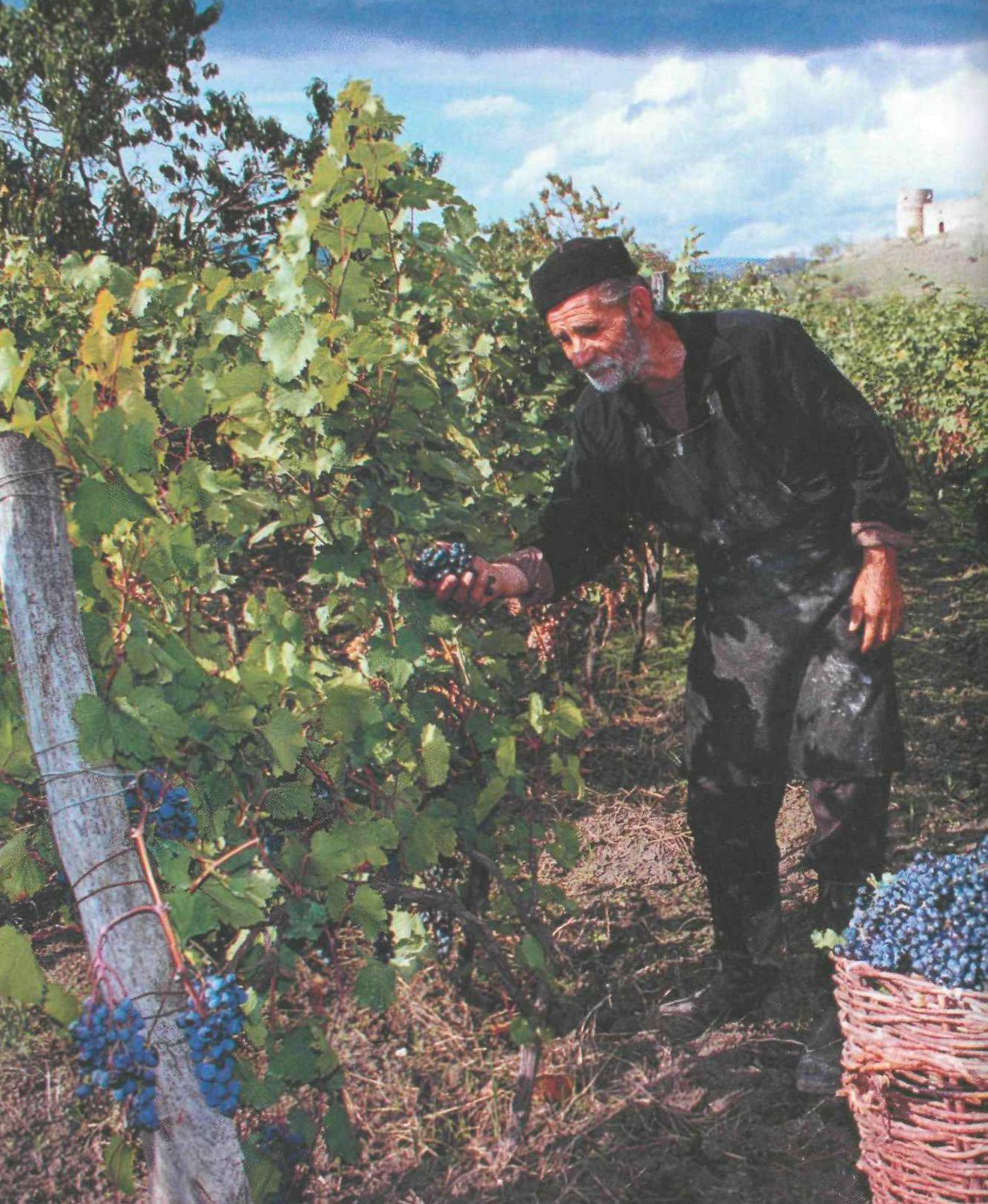 Notable Georgian wines made exclusively or predomiantly with Saperavi grapes:
Saperavi; a semi-sweet wine to dry wine, aged for 1 year, produced in multiple regions. One of the most common wines made from this grape, not specific to any region.
Kindzmarauli; a semi-sweet wine, aged for 2 years, produced in the Kvareli region. Grapes are harvested later than for most other wines made from Saperavi.
Akhasheni; a semi-sweet wine similar to Kindzmarauli, produced in the Gurdzhaani region.
Mukuzani; a dry wine, aged for 3 years, produced in the Mukuzani region. It's sourced from the best of the local vintages; and is considered the best of the Georgian wines.
Organoleptic characteristics of Saperavi European-Georgian style red wine:
Color: its intense ruby color is characterized by strong
veins of almost impenetrable violet shades.
Aroma: one can appreciate the dynamic scent of black
cherries, which alternates with the flavor of red
berries, plums and cherries.
In all the world, only this variety of wine gives off
such a deeply perfumed symphony of scents whose
surprising intensity is truly unique.
Taste: the warmth of its full-bodied alcohol content
is tamed by its deeply appreciated tannin-rich
characteristics, which temper and soften the wine's
taste. Its spicy flavor gives off hints of white pepper
and juniper; it lasts so long it seems never-ending.
Food suggestions: thanks to its special, variable
nature, this wine is well-matched with elaborately
cooked meats, including wild game. It is also great
with aged and semi-aged cheeses.
Serving temperature: 18°C .
Alcohol content % vol: 12-13

.