About Us
The founder of company Enriko Kobiashvili is keeping a family wine business. The history of the Kobiashvili family from Ahasheni,  begins in mountainous  Georgia  in village Kanobi where they worked as shepherds, beermakers and distillers. In the late Middle Ages,  the family headed down towards the plain; they settled on the Alazani valley in Kakheti in order to clear the land and grow vineyards there. True though it is that the genealogy of a family is based on the male line, it must be said that the Kobishvili family women have always played a leading role, and it is probably thanks to them that their menfolk have been able to exploit their manufacturing and commercial skills to the full. One the them was Shuko Keshelashvili who joined winery in 1949, where her skills and knowledge helped her to create a exceptional new wine " Ahasheni" with her unique style.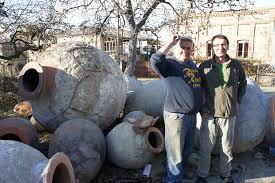 Director of the company, Tomaz Simon Begashvili has 40 years of experience in qvevri winemaking. He works as a curator of great products for our customers in close cooperation with his friends- artisan qvevri makers. (The villages of Atsana in Guria; Makatubani, Shrosha, Tq'emlovana, Chkhiroula in Imereti; and Vardisubani in Kakheti are traditional kvevri-making areas in Georgia). Qvevri making, especially for large-capacity qvevris, requires great skill, experience and expense.
Traditional Terracotta Qvevris
Qvevris are available in a variety of styles and in many sizes. For instance, Atsana originated Qvevris, do not differ in their size from other Qvevris, from Imeretian or Kakhetian ones, but are different as they always have scratched ornamentation on the surface, made by a special tool and have some belt-like circle strips on the whole body length. Kvevris manufactured in Vardisubani also differ from others in shape: they are more a heart-shaped, rather than egg-shaped, very strong and made from very dense clay. Imeretian qvevris (churi) have light-weight and thin walls.
We sift through all the noise, tests and evaluate what's available, and supply just the very best for our customers We double check the quality of the qvevris, make the linings, supply the qvevris with lids, fitings and covers, organize right packaging and shiping all over the world from Georgia. We have already shipped  the qvevris from Georgia to Australia, Chile, Canada , Mexico, Sweden, Austria, Finland, the UK, Romania, Czech Republic and the US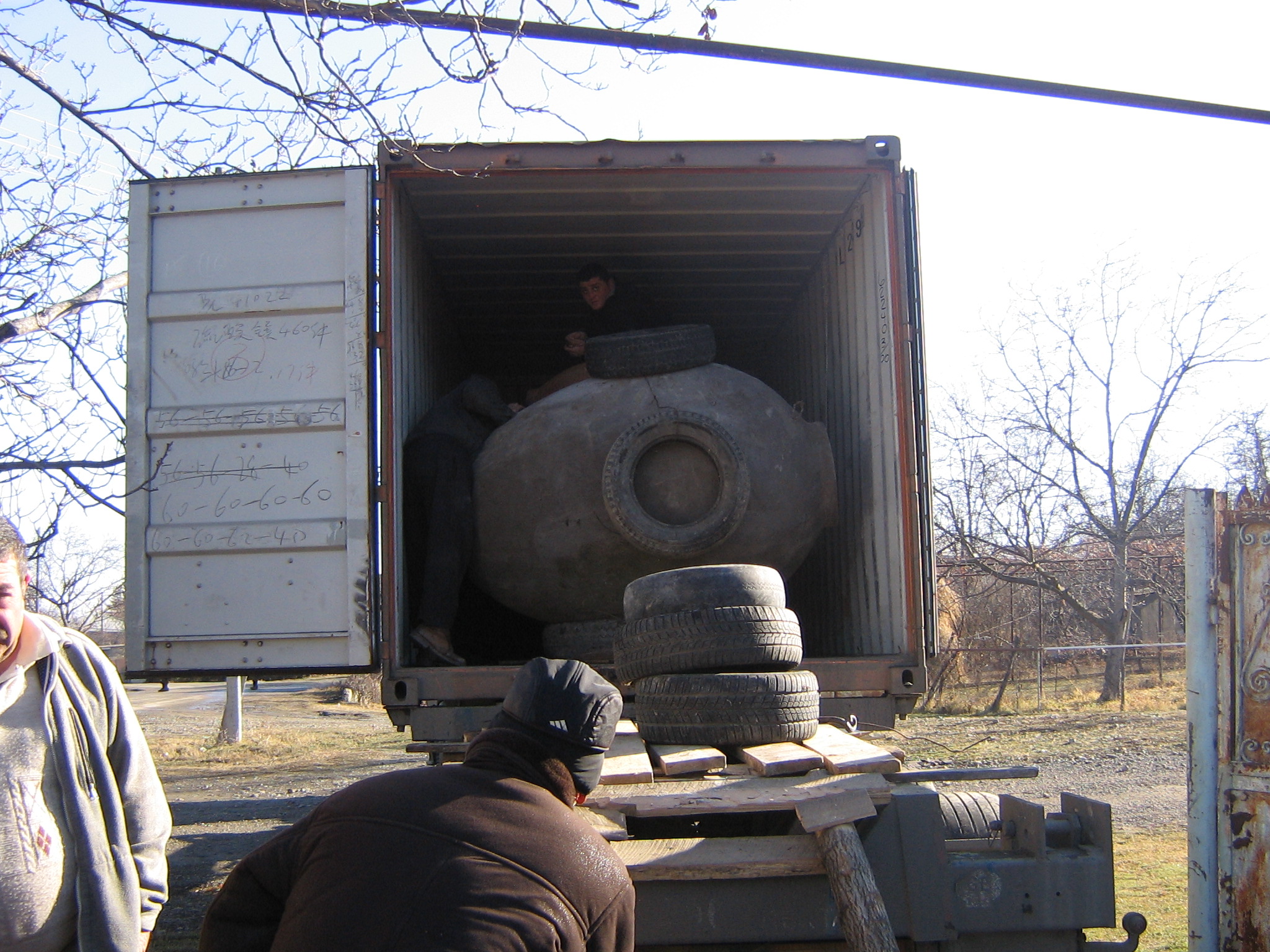 Concrete Qvevris
Using  the traditional Georgian terracotta qvevris We have found that the concrete has almost the same properties as  the terracotta. We also found that the most profound French wines are made in concrete vessels. That's why we started the concrete qvevris making. Our qvevris have three layers: the inside layer is made  of the special low ph concrete mix, the middle layer made from reinforced concrete and the outer from lime-cement decorative protective mix. There are a series of options that can be added : Inox lids, buterfly valves and etc More information about the concrete qvevris you will find on www.qvevri.ca